Ei Gude Frankfurt – as they say in Hesse. Welcome to Frankfurt, welcome to the heart of Germany, the heart of Europe. In and around Frankfurt you will find a wide range of hotels and accommodations. Here you get the most important information about your journey and tips for your stay in the metropolis on the Main river.
REGISTRATION.
The 2G rule applies to all participants of the Neonyt: access to the event is only granted to those who are fully vaccinated or have recently recovered from COVID-19. Appropriate proof must be provided on site.
OPENING HOURS.
Tuesday, 18 January 2022, 10:00-19:00
Wednesday, 19 January 2022, 10:00-19:00
Thursday, 20 Janaury 2022, 10:00-17:00
ARRIVAL.
Thanks to optimal transport connections, you can reach the Frankfurt trade fair grounds quickly and easily – by plane, train or car. The exhibition grounds are also just a stone's throw from the city center on foot or by bike.
Frankfurt Airport is just outside the city – by taxi or public transport you can be at the fairgrounds in less than half an hour.
Take a taxi to the "City/Festhalle" entrance.
Take the S-Bahn suburban train lines S8 (direction Hanau) or S9 (direction Offenbach Ost) from the airport to Frankfurt Central Station. The S-Bahn suburban train lines S3, S4, S5 and S6 will then take you from platform 104 directly to the "Frankfurt (Main) Messe" stop. You can find detailed information on arriving and departing by public transport under the section: TRAIN.
Frankfurt Central Station is only a few hundred meters away from the fairgrounds. With S-Bahn (suburban trains) and U-Bahn (underground trains) as well as trams, you can be right in the middle of the Fashion Week feeling in just a few minutes.
With the underground line 4 (in the direction of Bockenheimer Warte) one stop to "Festhalle/Messe".
With the S-Bahn suburban train lines S3 (in the direction of Bad Soden), S4 (in the direction of Kronberg), S5 (in the direction of Bad Homburg/Friedrichsdorf) or S6 (in the direction of Friedberg/Gross Karben) from platform 104 to the second stop, the S-Bahn station "Frankfurt (Main) Messe".
With tram lines 16 and 17 – you can reach the tram stop crossing the station forecourt and arrive at the third stop "Festhalle/Messe" at your final destination.
On foot in ten minutes along the street "Düsseldorfer Strasse" via "Platz der Republik" and "Friedrich-Ebert-Anlage". The pyramidal top of our Messeturm tower makes it easy to find your way. 
As a metropolis, Frankfurt am Main also has excellent motorway connections. Please follow the signs belonging to our integrated traffic management system – these will show you the shortest way to Messe Frankfurt. Parking is available in the "Rebstock" multi-storey parking car park, from where our shuttle service will take you directly to the fairgrounds. For your route planning, simply enter "Zum Messeparkhaus Rebstock" as the street name in your navigation system.
TRAVEL OFFERS.
Use sustainable transport and relax while you travel: as part of Neonyt, you can travel by train from any DB station at a fixed price nationwide. Deutsche Bahn runs on 100% green electricity and your choice to use DB's local and long-distance transport helps us to keep Neonyt's footprint as small as possible.
FAIRGROUND MAP.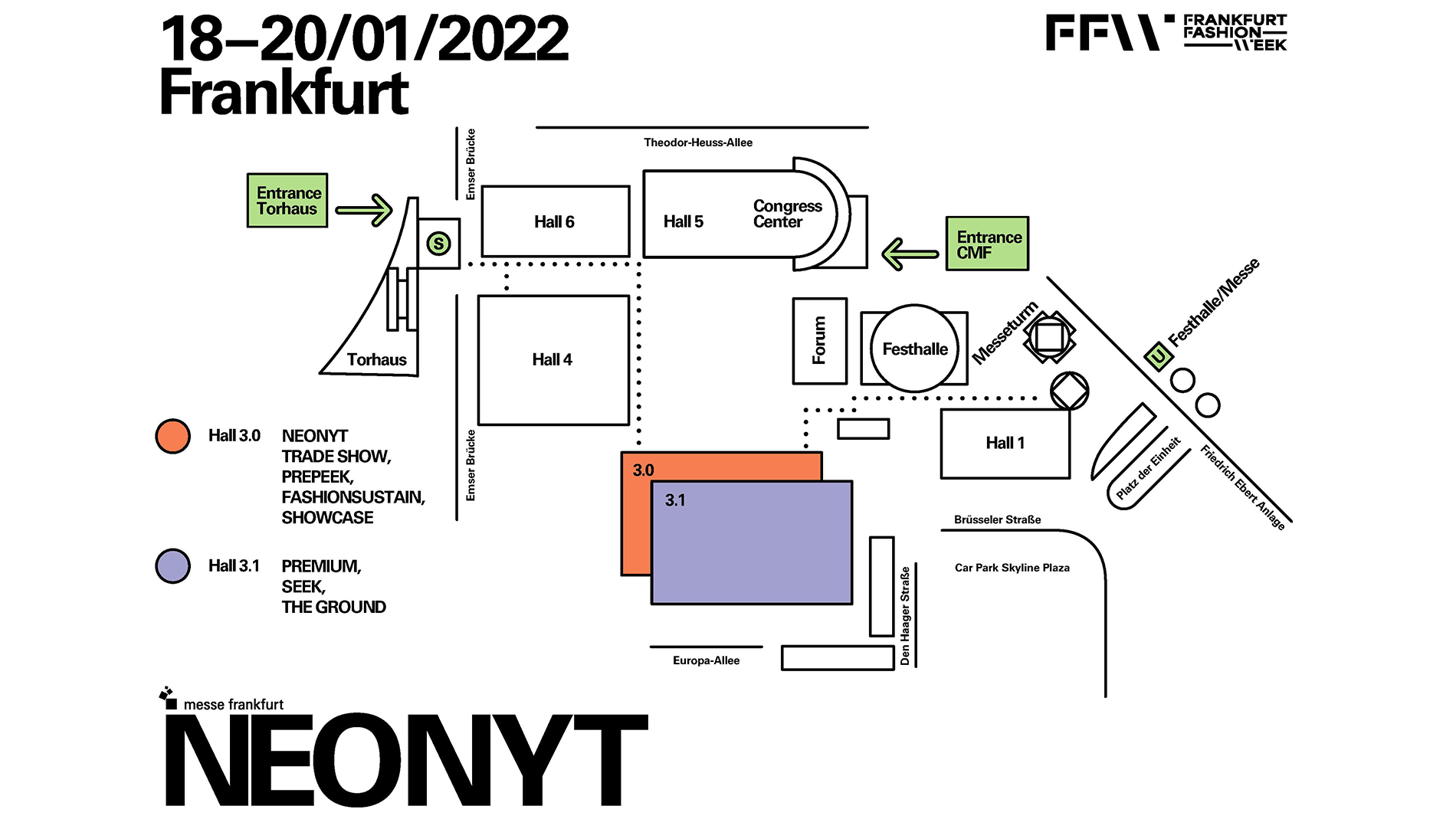 STAY.
The world is visiting Frankfurt. A total of 5,000 beds are no more than a 15-minute walk from the trade fair grounds – quickly there and quickly back again: just right for lively minds and tired feet from all the Fashion Week hustle and bustle.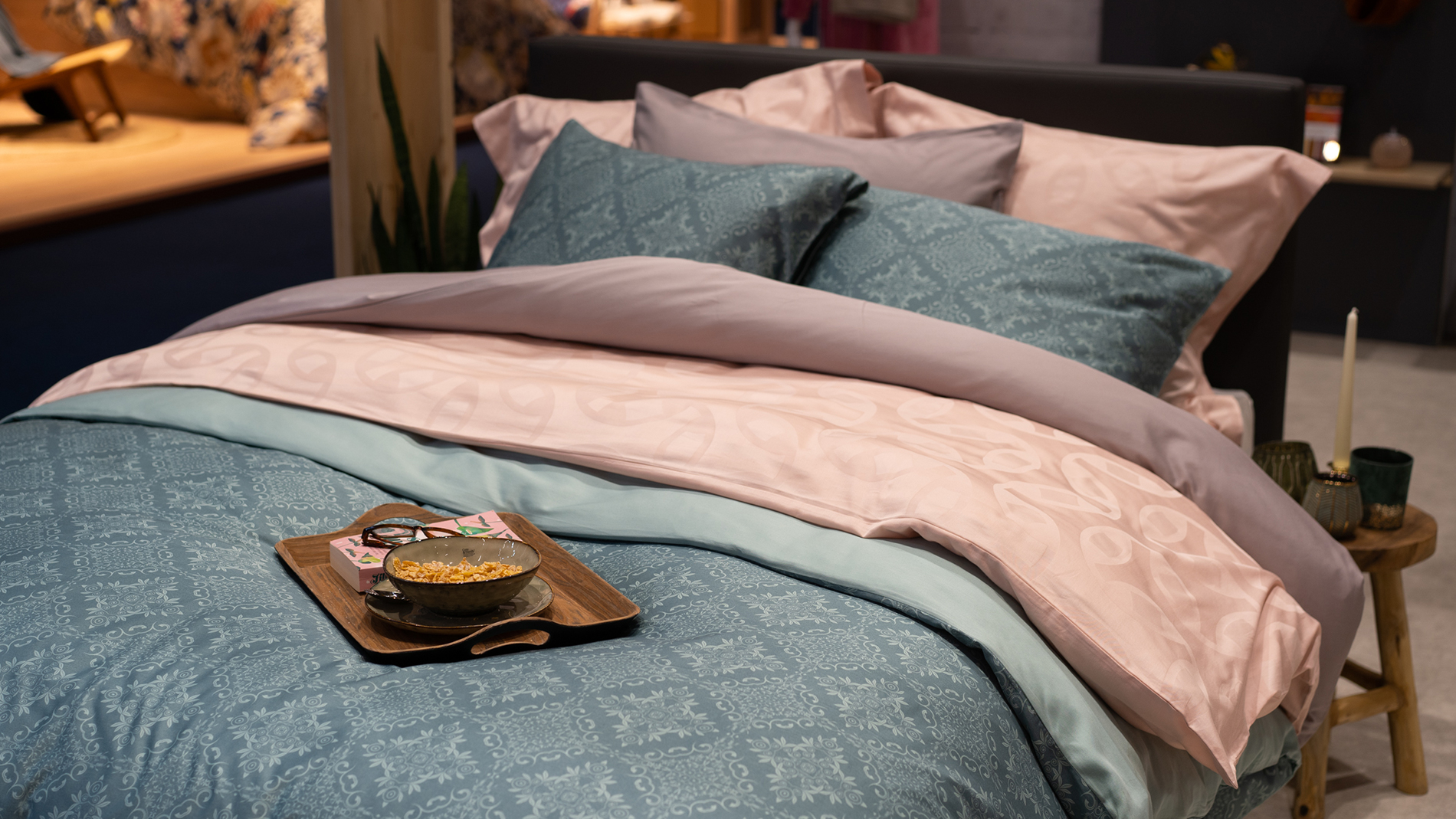 From pure and simple to lavish and luxurious – the Main metropolis offers you numerous accommodation options: For the Frankfurt Fashion Week, special conditions have been arranged in hotels of various categories, which you can book exclusively through the reservation service of Tourismus+Congress GmbH. Hot tip: Make your stay with us in Frankfurt as green as possible and check out the section "Sustainable Hotels".
HOTELS FOR FRANKFURT FASHION WEEK